DOG DAYS C YA!!!, SEPT, TROPICS/HARVEY, PRE PRE , 2024
Related Articles
Peeps,
Dog Days BYE BYE!
Well the dog days of summer really were doggin' us these last number of days. That Bermuda High was flexing its muscle like I said it would. Now, well it gets beaten back as a very comfortable almost autumn like for dem hills of NW NJ and Penn as well as NY State will see much below temps at night – upper 50's. Ain't no AC needed for this stretch of weather my fellow weenies.
It will be very comfortable from now until the end of this month – not saying much since we have only 8 more days but that is a great stretch to end August. Dry [period as well till next weekend.
September Outlook
Looks like it will be above average temp overall with a cool start early for the month.  With a warm Atlantic pumping temps will range above normal. Some humid days but don't know if we hit a heat wave streak of 90* days, could see a couple but don't know if we can pull off a heat wave of 3 consecutive. There will be cool shots that will be invading just like this one coming up overall but not an inferno month, those will give us a fall fell, outdoor fire pit – check!. Precipitation looks to be above average with tropical systems pumping moisture and humidity our way and maybe even a visit by one or two – YIKES!!
Speaking of the TROPICS/HARVEY:
Harvey- that wall banger is going to wash away Southern gulf coast of the state. IF this 9-day total comes to fruition then the great flood really did happen!  Biblical Flooding will commence with 20-30" plus amounts – SNOW QUEEN would lose her mind if this were snow LOL!!! (Equal 200-300"!!) It looks like it will hit a few areas along the Gulf Coast from Northern Mehico through Lake Charles LA as currently project and being a slow mover – this spells doom for the beach front and bay area as well as river tributaries. The latest EURO retrogrades it after it makes landfall does a loop and then along the coast ravaging Texas coast and then in La – MOMMA MIA!!
Storm track, Blue and black on EURO
GET OUT THE ARK!!!! – 51″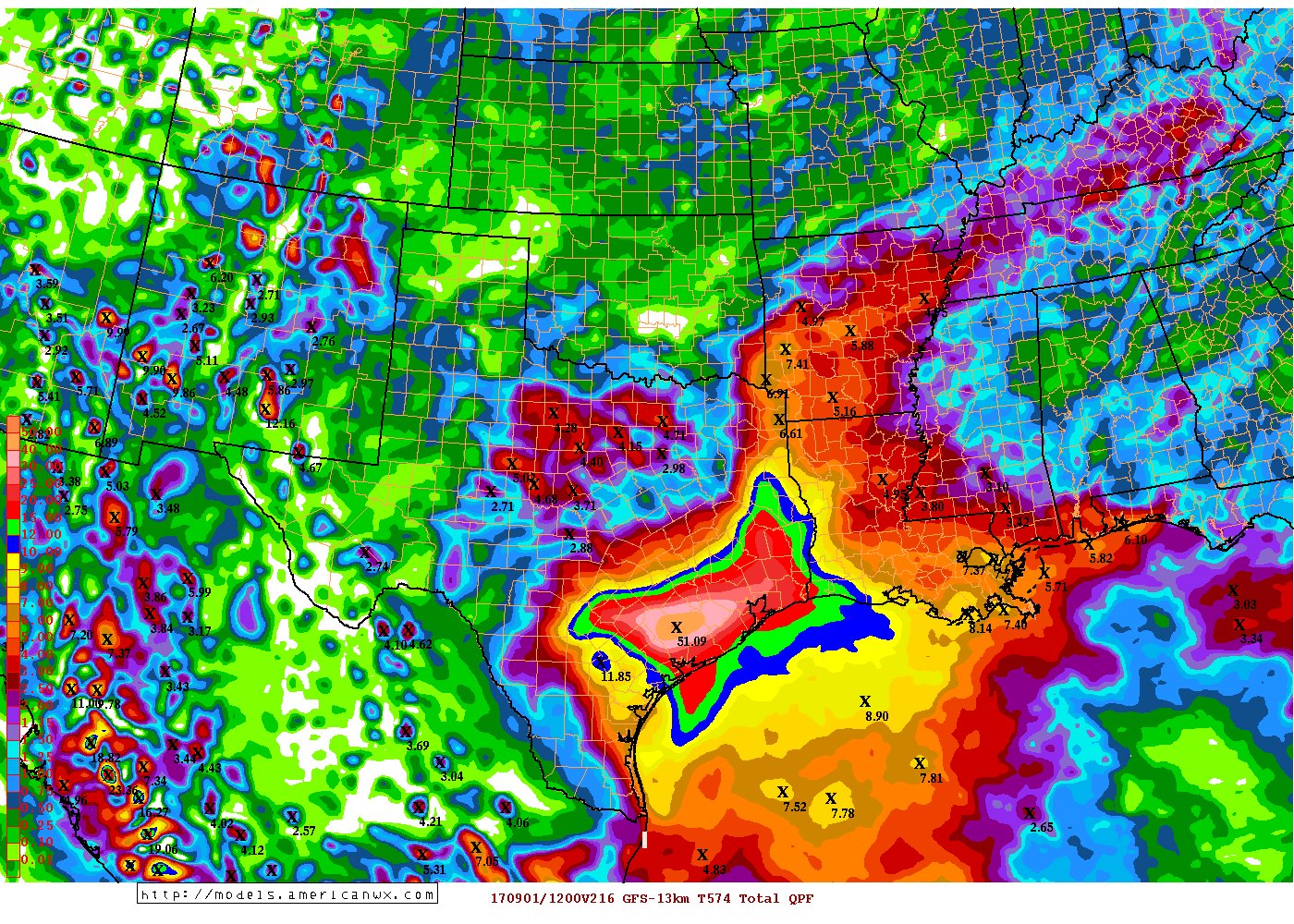 If you know anyone in this region along the Gulf and about 150 miles inland tell them to start to take warning and prepare! Prepare or prepare for failure!!
The Atlantic has been very active with a MJO (Madden Julian Oscillation) of phase 2 – there are 8 phases of this cycle that takes place in of all place the Indian Ocean. Phase 2 into 3 is a strong signal for tropical activity in the Atlantic.
Parade of storms in the Atlantic and on Afrika that will join the party shortly!
The set up again will bring these storms near the coast – hey 1- 200 miles is near with thousands of miles of ocean they are originating from! We have an African Wave train WOOT WOOT in full force peeps.
LABOR DAY
The EURO brings us Harvey as a remnant but pretty strong at that with gusty winds and tropical rains looking at Friday of next week. Lets hope it speeds up and swings out of here and doesn't phase with 92L in the Atlantic. If 92L forms into a tropical cyclone, then we would have two cyclones basically west of the state that has 4 eyes and can't see (Hackman from Mississippi Burning? – love that line!
Peeps, the tropics are so active and the atmosphere is percolating that things will be changing by the day hate to say but we must be vigilant and keep a wary eye out for something these next two months – yes 2 Months!
PRE PRE – WINTER FORECAST
The God Fadder (Godfather) of the USAwx board has given us (his followers) his winter predictions.
KNYC – New York City
Nov Temp 0.0
Nov Snow 3
Dec Temp -2
Dec Snow 18
Jan Temp +.5
Jan Snow 8.5
Feb Temp -.5
Feb Snow 20
Top Analog yaers (comparison 2002,
Two blizzards. One Dec one Feb. – YAHOOOOOO!!
Me Likey 10x over!!
2024
Next eclipse  path – book your rooms now 7 year itch LOL!
By teh way what a bust for me – 70% eclipse my lunar eclipse (get that peeps lunar = moon = a@!) SWky turned weird and I hear crickets and birds calling and my dog laid down – well when doesn't she lye down. Anyway , not that great in my bookk up here and a big shout out apology to my boy Bach at the RSC for telling him to pull the swimmer out of teh pool for out will be like dusk – dusk my you know what!! Upstae wester NY is the place to be as is Erie (good name) for this next one.
Updates to come and enjoy this next stretch the last true stretch of summer for all the kids and parents.
AL Q
PS
This to my oldest son who has left our nest and moved onto the next level of education at the great university known as WE ARE! I will live vicariously through your weather in Central PA and look for updates. Never easy letting a child who yuo have spent everyday with for his last 18 years go but it is the right thing for him. So knock 'em dead Mike and lets go Nittany Lions!!