Mr. Nor BUST, All Eyes watch my son – Matthew!!!!
Related Articles
Peeps,
Mr. Nor'easter
The Nor'easter never came to fruition – the cut off low stayed further west and just spun showers and periods of steadier ran that accumulated to only about .5" not the 2" it was showing – it being the models – they are nice to watch
But can be bad at times – get that one??
So we are left with this cloudy raw fall weather – heck is it fall so pull up chair – break out a hard warm cider, Oktoberfest beer, have some stew, bratwurst whatever you choose and enjoy it. It will be out here by tomorrow morning – just what Dr. Berbs ordered!! (My ex player/captain Derek Bebrebrian is this reference and to his Aunt who is having her sons' bday party at 3PM Sunday – the order has been put in to Big Momma.
My Son – Dangerous or Out to Sea???
Peeps' speaking of sons mine is the strongest hurricane in the Atlantic Basin since 2007 when Felix the cat made this honor. What is a category 5 chance – well it is 165 mph sustained winds, storm surge 20' plus or greater and waves 30-40' – makes Sandy look like a baby. Jamaica is going to under the gun as per the National Hurricane Center come of destruction. Matty intensified from a cat 2 to five in 24 hours – researched the last hcane to do so and Andrew is an comparison – don't have Amnesia peeps remember homestead area and how there was nothing left of that city, the wind anemometer on top of the NHC blew off at 150 mph wind gust – that is serious when that happens. I get chills just writing this.
So what is the deal – well I have been on my two wx boards these last 3-4 days and posted over 300x regarding the pattern set up and possible tracks everything from the MJO to the heat potential to the new solar flares – yes I am one big weenie – that is why you are here reading my posts!!
Euro says Matty goes out to sea – it has a very ominous storm with incredible strength as he moves up to our latitude a cat 2/3 storm – last one was Hazel for us in 1950 – Simo that old geezer remember this – Oh I know who would one of my favorite NH families Grandpa Drew. Hazel was inland and there were winds of 100mph recorded along the jersey shore and into NYC.
Fish Storm as a cat 4 – poor NEMO!!
Gfs the American model saying for the past 4 days he says a big Fordham University style gesture to the Euro and that he comes up the coast and makes landfall anywhere from NY harbor to Cape Cod – latest it has been trending west Central LI. Once he gets up here he is looking for his Pappa – that is me sitting up here in NE NJ. He then gets pissed and tried to make his way over to me but feels the trough that will be building in from the west tugging on him. Okay, that is the script in my words – meteorological if this happens the holy mother of god we are going to see chaos and panic in the area like we have not seen before.
A BOWL OF PASTA HERE THE TRACKS
AMERICAN NAVY SAY HELLO
Dr, Michael Ventrice who is very reputable and respected pro met says we could see a 1938 redux H cane storm the hit Central LI. That is a very scary scenario. Here is his article.
https://business.weather.com/blog/hurricane-matthew-update-now-major-hurricane-category-3-and-a-credible-threat-to-the-northeast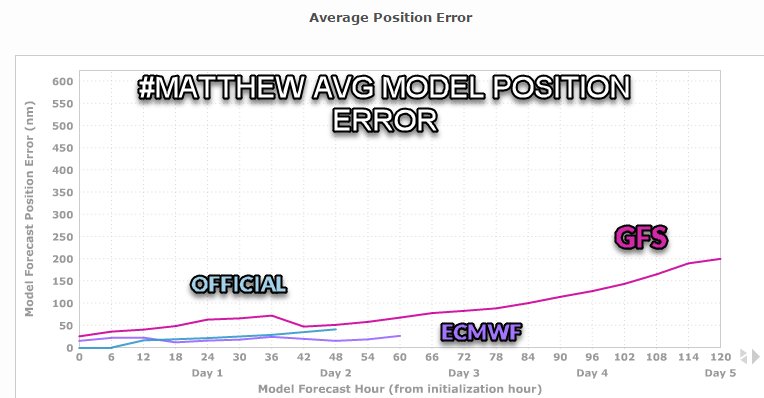 So what is crucial is to see where Matty makes his turn in the next 24 -36 hours. If it is more west then the systems in the GOM and Midwest tug on him and the Bermuda High put the squeeze on him and locks him to the coast.
Personally, I am leaning 50% to a western track at this time from latest recon data and model output – this would be a dagger to the euro model, it insisted on a GOM track so it is bad so far with this – USA may win again with this one.
Updates to come.
Al Q