UPDATE UPDATE – HOLY MOTHER OF MERCY!!!!!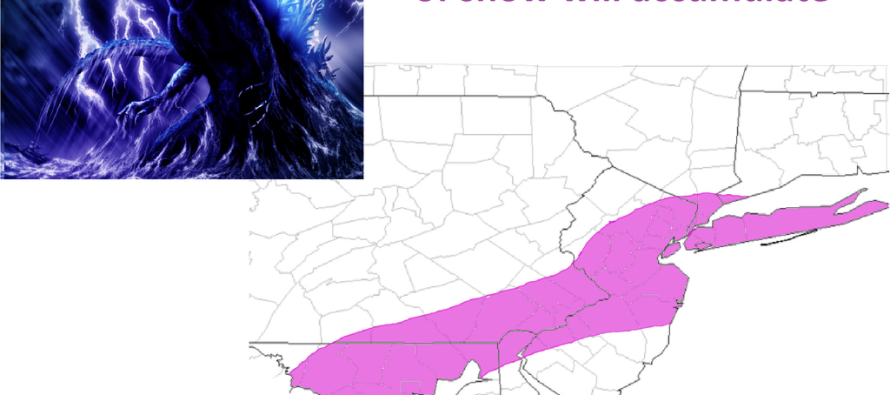 Related Articles
UPDATE UPDATE – THIS JUST IN  I AIN'T KIDDING HERE THIS IS SERIOUS STUFF – CAN IT GET WORSE YOU ASK WELL YOU FRICKIN' TELL ME:
THIS IS FROM MY BOY FROM THE NJ STRONG WEATHER FORUM THAT I AM A PROUD MEMBER AND MODERATOR OF – THIS IS OUR LEADER AND HE IS FANTASTIC – FRANK THE P:
500mb low is over the Mid-Atlantic and slowly tracking wast-northeast. The surface low is tightly wrapped just off the coast of Delmarva. Once the 500mb low is offshore, some models try to develop an inverted trough that would bring enhanced snowfall rates over an isolated area somewhere over eastern PA, NJ and NY.
The HRRR has it snowing until Midnight tonight! Look at the band situated over the area at 10pm. This means we still have 12-15 hours of storm left. Much of these bands are producing 1-2″ of snow an hour. YOU DO THE MATH!
IF YOU CANT SEE – 28 -36″!!!!!!!!!!!!!!!!!!!!!!!!!!!!!!
SEE SO WHAT DID I TELL YOU A FEW MINUTES AGO!!!!!!!!!!!!!
SHOUT OUT TO THE GUYS ON THE USA WX FORUM I BELONG TO THEY ARE SOME OF THE MOST INTELLIGENT, 9 WQCRAZY AND HILARIOUS BAL BREAKING WEATHER GEEKS I KNOW OF – THIS IS TRULY HISTORIC
WOOOOOOOT   WOOOOOOOOOOOOOOOOOOOOT!!
AL Q