Tropical, Autumnal Intrusion, WAR?, Tropics
Peeps,
Picked up .4″ of much needed rain today and thanks to Julia who like Hermine keeps defying the laws of meteorology is spinning off the Virginia/North Carolina coast pumping up this humid tropical air. We have to deal with this until Friday when a cold front look to move through and bring our temps actually below normal for this weekend through Monday.
Autumnal Intrusion
We have like I stated above a cold front that will be moving through the area on Friday with a big High Pressure system that will anchor itself in SE Canada border and bring in the coldest air since mid-March. Some of the mountain area in
the Poconos and Catskills may see frost and possibly freeze warning go up. For us upper 30's to low40's are in order and the UHI (Urban Heat Island) looks to be around 48 degrees. LI peeps – hotlantic insulates you like my Gatorade cooler lower 50's. Monday morning looks to be the coldest of the mornings – may need the heat peeps – just sayin'. Look at these temps – get out the blankys my brethren's!
WAR = Western Atlantic Ridge = Heat Miser
This will build back and beat back the cold air intrusion back to where it belongs this time of year up in the Hudson Bay northern fringe of Canada. WE will have above normal temps next week and October will finish about +2 above normal overall maybe more.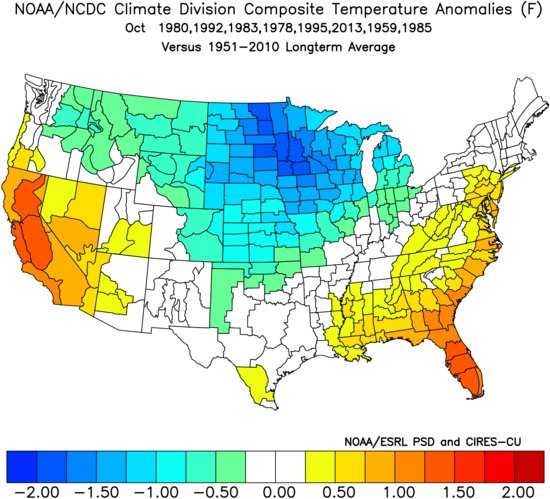 Tropics
Active although we aren't experiencing anything to bad YET!! Not wishing here peeps but the pattern is more conducive to East Coast landings overall.
Julia – a rare occurrence – no not her name instead of Julie or Jules but that she actually gained tropical storm status over land!! These beasts love warm water – like a baby in a mother's womb – warmth or the love you all feel from me, AL Q when we have an impending Snow Storm HAHAHA!!! She has been spinning along the SE coast for days now and will eventually dispute but a close to land formation once again.
Karl – may come more west but looks like he is going OTS.
Three plus  Tropical Waves behind Karl – the further south they begin their track the more west they can come because they avoid the westerly's and front that sweep off the East coast this time of year. With a big WAR sitting in the middle of the hotlantic we have to be wary – this season will go to the end of October this year so we have a lonnngggggg ways to go peeps!
Updates to come.
Al Q